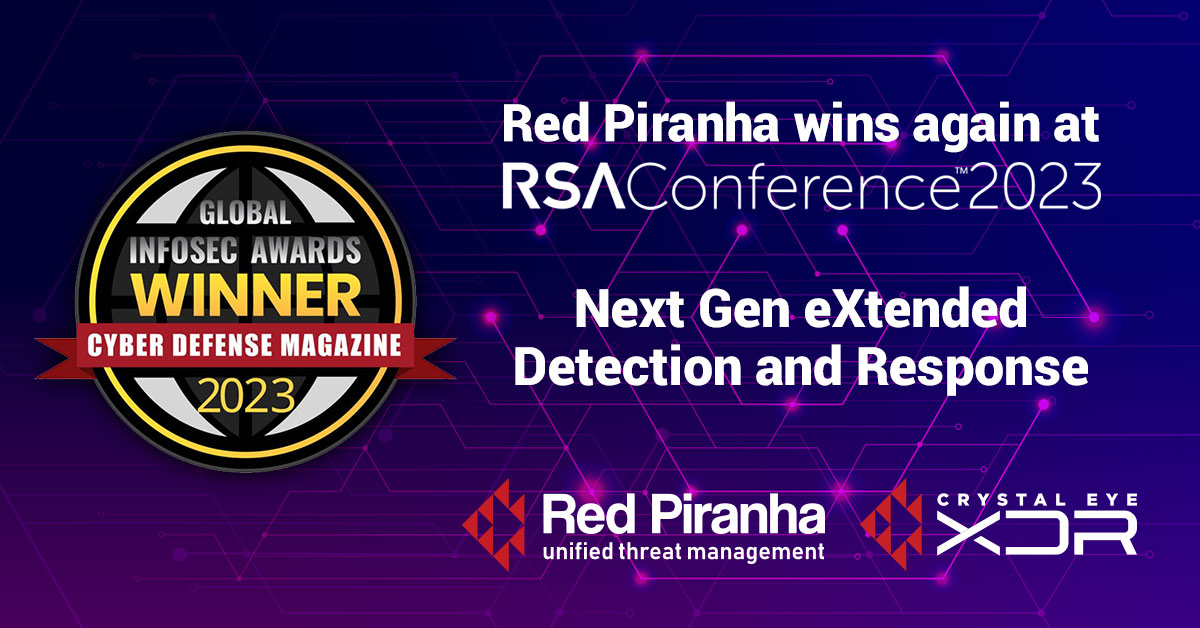 Red Piranha Wins Next Gen Extended Detection and Response Award In The 11th Annual Global InfoSec Awards at #RSAC 2023
Red Piranha, Australia's leading developer and manufacturer of advanced cybersecurity solutions, is proud to announce that we have won the "Next-Gen in Extended Detection and Response (XDR)" category at the 11th annual Global InfoSec Awards during this year's RSA Conference in San Francisco.
Red Piranha boasts multiple awards, is a member of Team Defence Australia, and is the first Oceanic member and the top contributor to the Cyber Threat Alliance, delivering world-leading threat intelligence that's fully integrated and operationalised.
Driven by people and processes, Red Piranha are committed to offering superior security solutions and services using automation, systems, and skilled people to provide managed solutions and ironclad information protection.​
This is the third consecutive year that Red Piranha's crown jewel, Crystal Eye has won the "Next-Gen in Extended Detection and Response (XDR)" award. The judging process was conducted by CISSP, FMDHS and CEH-certified security professionals who voted based on their independent review. Cyber Defense Magazine is looking for the best-of-breed, next-generation InfoSec solutions and we are pleased to meet their expectations.
Crystal Eye Extended Detection and Response is designed from the ground up for enterprises of all sizes. Red Piranha's award-winning technology reduces the risk of a security incident, reduces the time to detect & respond to a breach, reduces the cost of securing your business and is recognised as a significant game-changer in the industry. Unlike most security products which are often siloed and require manual intervention without providing end-to-end protection, Crystal Eye is a Consolidated Security Platform (CSP) that converges multiple security functions and integrated services into one unified platform to protect your organisation from the network, cloud to endpoints with tangible ROI.
It brings us immense joy to have been granted one of the world's most prestigious and highly sought-after cybersecurity awards by Cyber Defense Magazine at the RSA Conference, on the occasion of their 11th anniversary as a distinguished cybersecurity news and information provider. Despite the stiff competition and with top judges who are leading infosec experts from around the globe, we are extremely happy with this achievement.

Adam Bennett, CEO, Red Piranha
Red Piranha embodies three major features we judges look for to become winners: understanding tomorrow's threats, today; providing a cost-effective solution and innovating in unexpected ways that can help mitigate cyber risk and get one step ahead of the next breach.

Gary S. Miliefsky, Publisher, Cyber Defense Magazine
We are glad to share Global InfoSec Awards with our fellow winners. Congratulations to them all!
To learn more about Crystal Eye XDR and our extensive range of cybersecurity solutions, please visit redpiranha.net
Date Published
April 23, 2023