CRYSTAL EYE CESOC
Crystal Eye Security Operations Centre
CESOC is a SaaS-based "smart SOC" that leverages the power of the Crystal Eye XDR security platform to deliver the benefits of a full Security Operations Centre (SOC). It provides a suite of operational capabilities such as escalation and response, vulnerability management and Automated Actionable Intelligence all in one unified platform.
Benefits
Integrated platform delivers more automation via XDR technology, allowing organisations to scale their security.
Improves operational security; creating effective detection and response capabilities; enhancing staff productivity.
Allows actionable protection, detection and response capabilities.
Features integrated SIEM, Vulnerability Assessment, automated patching and integrated Risk Management.
CESOC delivers cutting edge threat intelligence in real-time.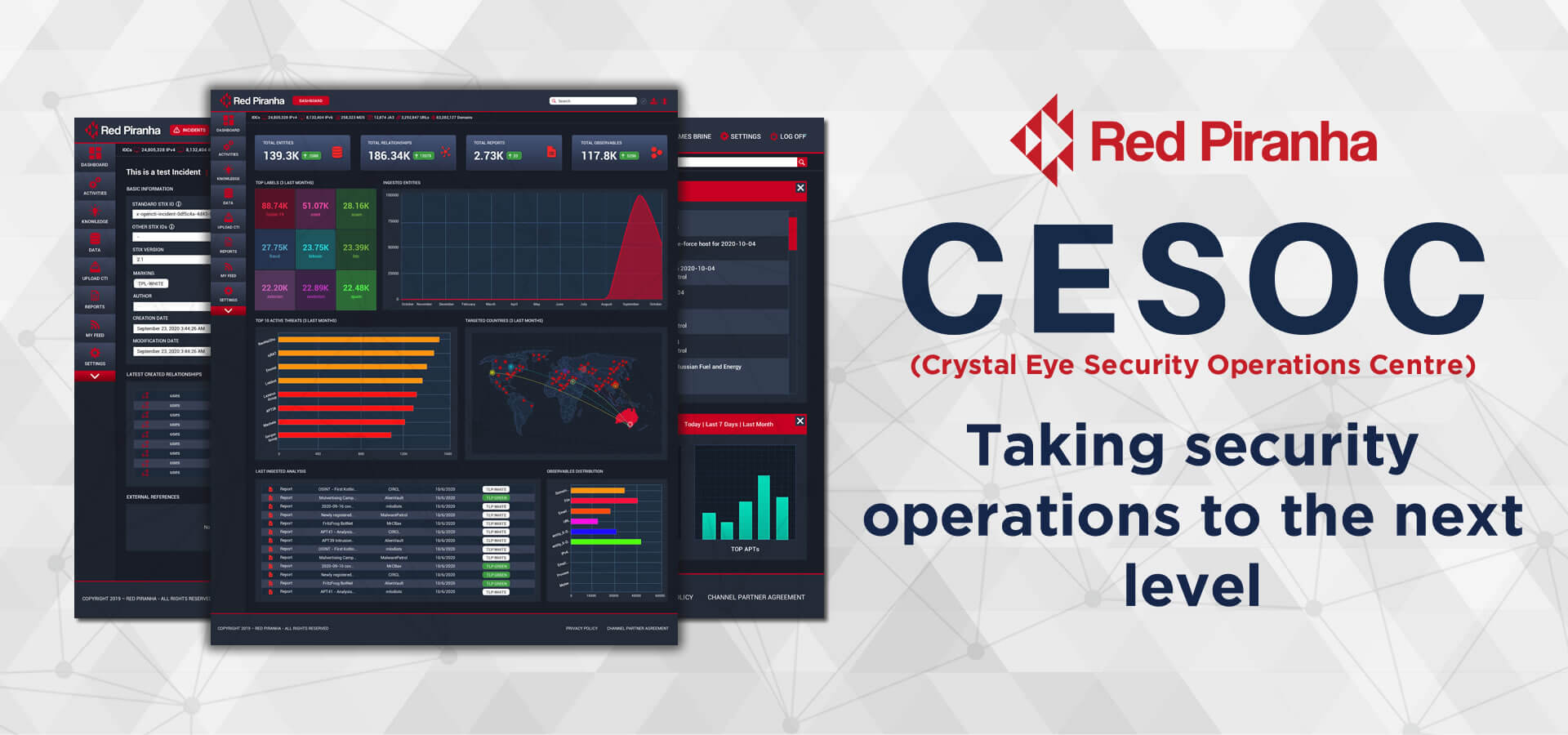 Delivering a complete security operations solution running on a single platform, no need for various products from multiple vendors to build your own SOC.
With your security operations in the hands of the experts, CESOC lets you get on with business.
Outsourcing the responsibility of managing your security operations, share the compliance obligations.
Our predictive and automated approach to security with Automated Actionable Intelligence delivers pro-active analytics for increased threat prevention.
Featuring integrated SIEM, Incident Response and Forensics, Vulnerability Assessment, automated patching and Integrated Risk Management capabilities, CESOC delivers cutting edge threat intelligence in real-time, allowing for actionable defence to be implemented in operating environments.
The unique flexible MDR scaling functionality allow organisations to develop a customised SOC solution ensuring direct and seamless interaction with Red Piranha's specialists, eliminating the need for multiple vendors and expensive IT teams and security experts.
Integrating with Red Piranha's Australian-made Crystal Eye devices, endpoints and cloud deployment options, CESOC offers unparalleled features include extended detection and response (XDR) capability, PCAP analysis, and digital forensics, all with 24/7 support.
CESOC'S advanced XDR covers the technology stack by integrating with identity, data protection and application access, automatically leveraging externally acquired threat intelligence in multiple different detection methods.