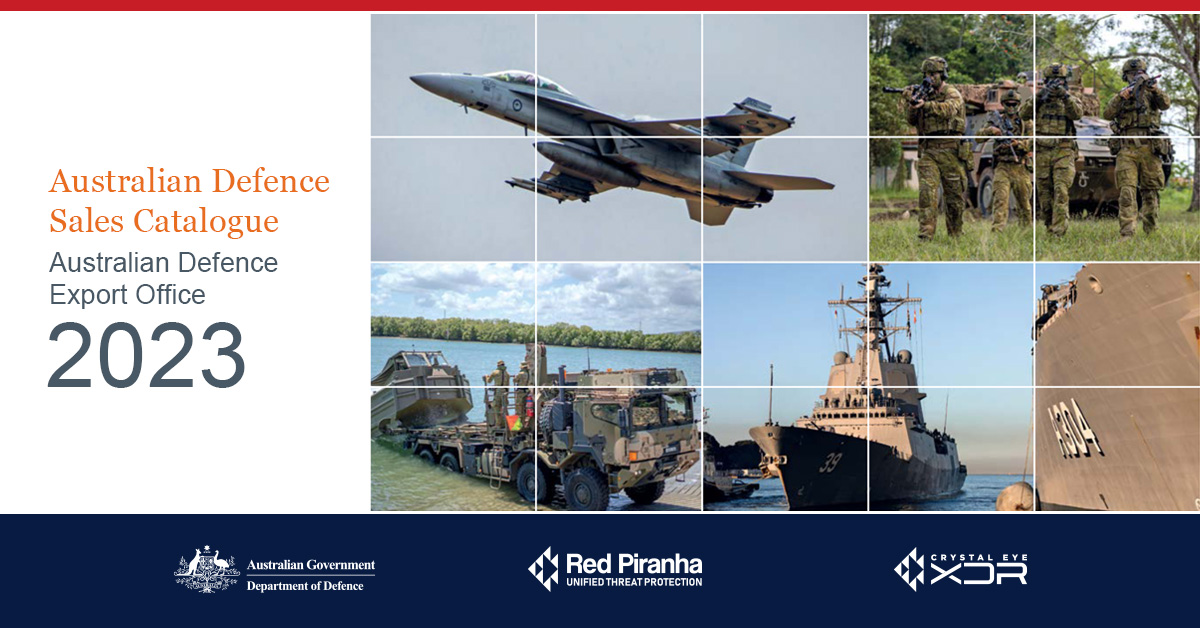 Red Piranha, Australia's leading cybersecurity technology and solutions developer, manufacturer, and official member of Team Defence Australia, is honored to continue to be featured in the seventh edition of the Australian Defence Sales Catalogue 2023.
The catalogue plays a key role in promoting the Australian defence industry to governments around the world, and Red Piranha is proud to represent cutting-edge cybersecurity technology that is Australian-made, defence-ready, and promotes true sovereign capability.
Red Piranha boasts multiple awards, including some of the most prestigious in the Australian Defence industry. Red Piranha was also the first organisation in the Oceanic region to be part of the Cyber Threat Alliance based out of Washington D.C and is a world leader in the threat Intelligence industry.
Our Crystal Eye- Consolidated Security Platform will join 249 industry-leading Australian organisations representing world-class, innovative, export-ready products and services that are available for sale under government-to-government and commercial-to-government sales arrangements.
As a proud Australian-made, owned, and operated organisation and a dedicated member of Team Defence Australia, we look forward to the opportunity to provide our industry-leading Crystal Eye- Consolidated Security Platform and best-in-breed cybersecurity solutions to the domestic defence industry, foreign Embassies, and Australian Defence Attachés. We aim to ensure our data sovereignty and keep Australia secure from the growing threat of cyberterrorism.

Adam Bennett, CEO of Red Piranha
The 2023 Catalogue is launched today by the Minister for Defence Industry, the Hon Pat Conroy MP, demonstrating the increasing strength of Australia's world-class defence industry. Minister Pat commented, "This year's Catalogue features a record number of Australian businesses, demonstrating that we have a growing number of world-class defence products, services, and technologies."
To learn more about our Crystal Eye- Consolidated Security platform, please visit redpiranha.net
Date Published
April 04, 2023