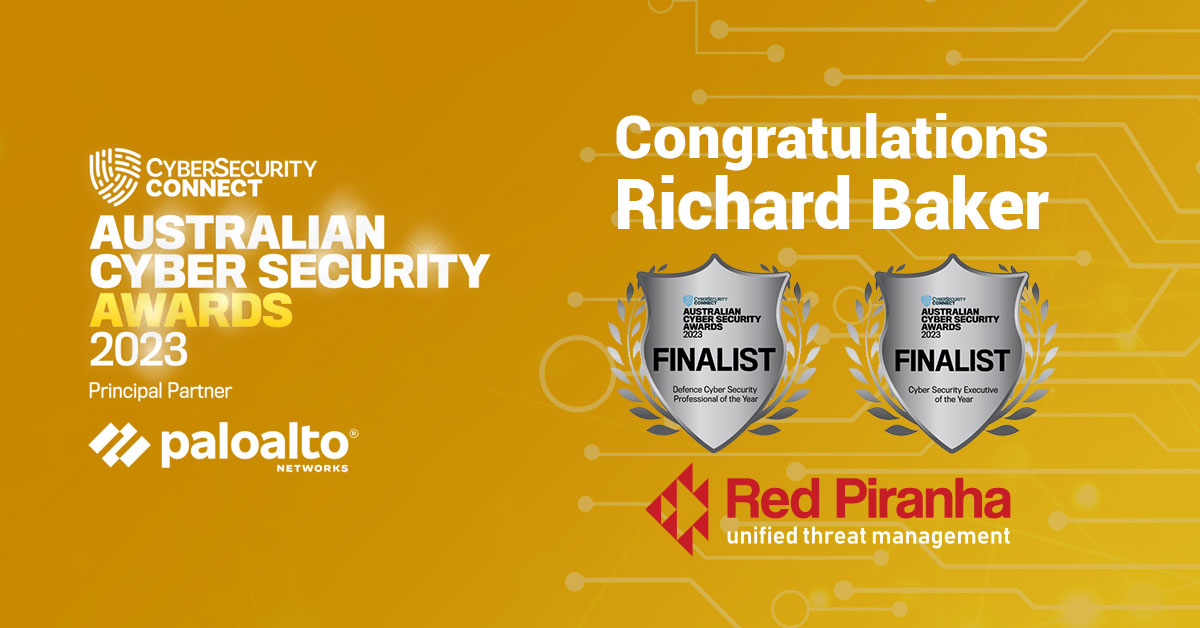 Richard Baker, Red Piranha has been shortlisted for the Australian Cyber Security Awards 2023.
We are pleased to congratulate Richard Baker from Red Piranha to have been named as a finalist in the Australian Cyber Security Awards for Defence Cyber Security Professional of the Year and Cyber Security Executive of the Year.
Red Piranha, Australia's award-winning developer and manufacturer of advanced cybersecurity solutions. Driven by people and processes, we are committed to offering superior security solutions and services using automation, systems, and skilled people to provide managed solutions and ironclad information protection.​
Red Piranha is an official member of Team Defence Australia and is the first Oceanic member and top contributor to the Cyber Threat Alliance, delivering world-leading threat intelligence that's fully integrated and operationalised.
Red Piranha has been highly active within the Australian Defence ecosystem. We're recognised as playing an important role in the Defence sector and are a proud participant in many Defence programs.
The inaugural Australian Cyber Security Awards is the premier event to honour outstanding individuals and businesses making significant contributions to the cyber security industry.
These esteemed awards are distinguished for recognising individuals and businesses, rather than products and platforms, enabling the acknowledgement of all cyber stakeholders in the industry. From defence, insurance and cloud service technology through to STEM, consultancy, and ransomware protection.
Advanced cyber technologies are critical to strengthen the intelligence and cyber capabilities of the Australian Defence Force. Crystal Eye XDR is ahead of the curve on delivering those advanced capabilities. Red Piranha offers the only end-to-end platform that covers vital areas of the DISP questionnaire. With Crystal Eye - Consolidated Security Platform and our trademarked eCiso service, you can get on with your business knowing you're protected by Red Piranha, as part of Team Defence Australia.
Cyber Security Connect's editor, Liam Garman said:
"All Australian businesses face mounting cyber security challenges. The annual Australian Cyber Security Awards is our chance to recognise the best and brightest in the industry, and applaud their tireless efforts in keeping us safe," he said.
Richard Baker, Executive Director at Red Piranha, is humbled to be recognised and proud to be named as a finalist in the Australian Cyber Security Awards 2023.
"Red Piranha's recognition for our excellent contribution to the cyber security industry reinforces the strength of our service and dedication to connecting with the community and engaging with clients."

Richard Baker
Date Published
April 20, 2023