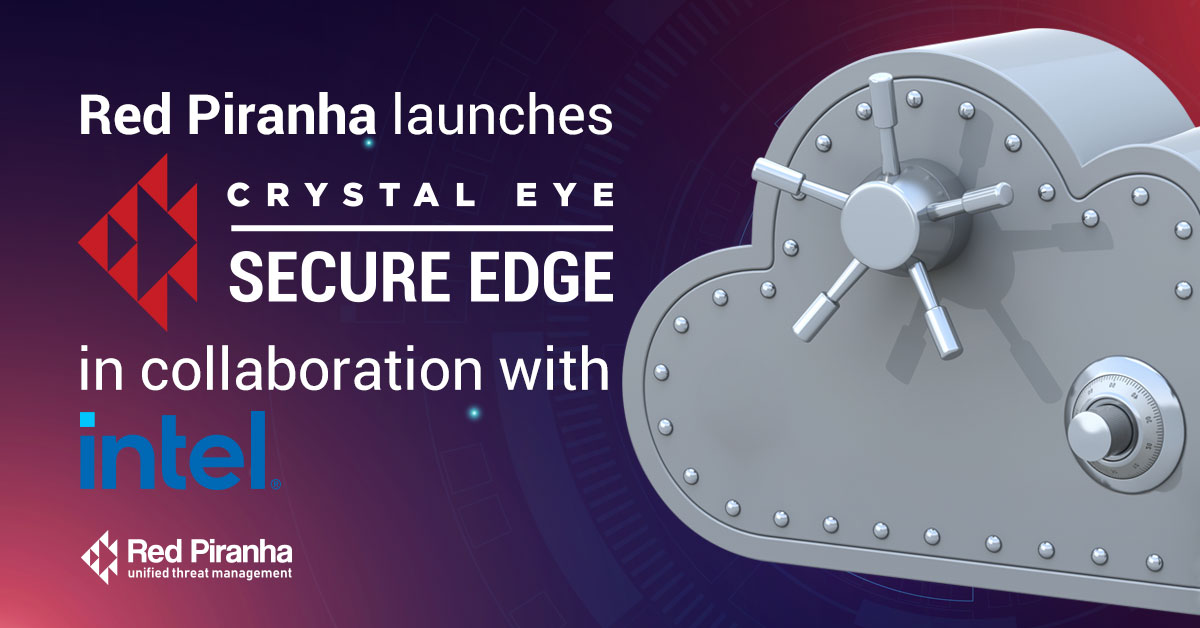 Red Piranha, Australia's leading developer and manufacturer of advanced cybersecurity solutions, today launched the Crystal EYE Secure Edge SE101 in collaboration with Intel, delivering high-speed Single Vendor SASE to the market. The range includes the Crystal Eye SE101, a dedicated 1GB Intel® NetSec Accelerator Reference Design, combined with Red Piranha's latest release of Crystal Eye 5.0. This release incorporates cloud access security broker capabilities and complements its already world-leading IoT/OT protection security feature set.
Crystal Eye's 5.0 release has expanded Cloud Access Security Broker (CASB) functionalities, meticulously tailored to cater to the intricate needs of modern smart city infrastructures, the dynamic landscape of telecommunications, and the security demands of private cloud environments. Red Piranha have engineered a solution that perfectly addresses the growing need to deploy cloud-centric applications within an architecturally robust edge cluster framework.
Leveraging Intel's Phantom Lake reference design, Crystal Eye Secure Edge represents Red Piranha's commitment to securing cloud environments by bringing award-winning detection, monitoring, and protection technology to the cloud market. It deploys security controls into critical infrastructure where they are needed.
The Crystal Eye SSE range brings true Borderless Firewalling capability to its partners allowing enforcement of policies, propelling your Zero Trust strategy across office locations, remote workers or in cloud native micro segmented environments. This control integration also enhances detection efficacy in SOC and MDR programs, by extending visibility to counter advanced persistent threats (APTs) giving Real-time insights into network traffic and behaviours empowering anomaly detection and rapid response.
The Red Piranha Secure Edge product range with Crystal Eye 5.0 represents the first step in the new class of Red Piranha Security solutions. These solutions can address the security needs of Managed Service Providers who want to include security services with their cloud offerings. These offerings are made available across 100mb Virtual, secure 1Gb Edge hardware, and cluster 100gb+ models to scale up for Telecommunications providers. These providers need advanced detection and visibility over nation-scale deployments while maintaining sovereign control over their networks, all at high speed.
Red Piranha boasts multiple awards, is a member of Team Defence Australia, and is the first Oceanic member and the top contributor to the Cyber Threat Alliance, delivering world-leading threat intelligence that is fully integrated and operationalised.
Adam Bennett, CEO of Red Piranha stated:
"The challenges faced with sprawling security needs across the technical complexity of private cloud, large telecommunication networks and smart cities, can be addressed with control consolidation and collaboration across specialist teams. This defence in depth approach allows Red Piranha to keep a watchful eye on the evolving threat landscape."
Red Piranha is set to release the SSE range globally in the coming weeks, with presentations across the ASEAN region, and a planned upcoming global webinar with Intel. Partners interested should contact their representative or contact the company for further details.
Date Published
August 31, 2023