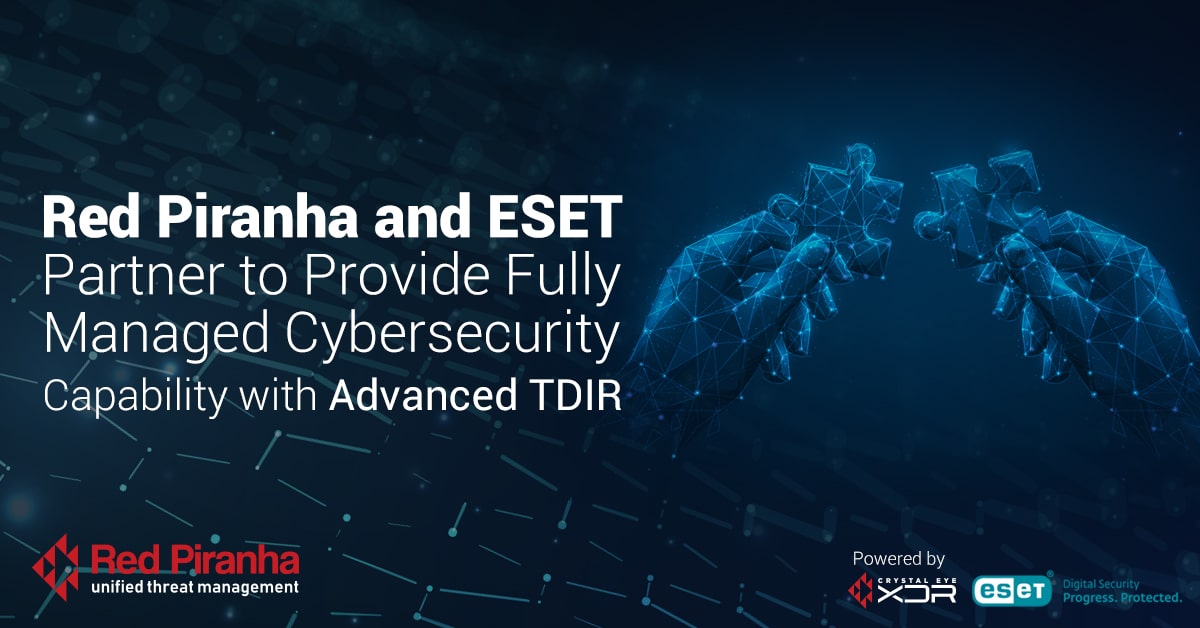 ​​​​​​​Red Piranha, Australia's leading developer and manufacturer of advanced cybersecurity technology is pleased to announce its strategic partnership with ESET Australia, an industry-leading provider of endpoint detection and response (EDR) solutions.
With Red Piranha's best-in-breed network detection and response (NDR) with managed detection response (MDR) capability and ESET's proven EDR solution, trusted by some of the biggest companies in the world, customers can now be confident they have a fully managed cybersecurity solution that can protect networks, endpoints and cloud services, wherever they are. This advanced threat detection and incident response (TDIR) solution gives the most comprehensive capability on the market to protect against the threat of APT's and Ransomware.
Red Piranha boasts multiple awards, is a member of Team Defence Australia, and is the first Oceanic member and the top contributor to the Cyber Threat Alliance, delivering world-leading cyber threat intelligence that's fully integrated and operationalised.
We take pride in developing comprehensive holistic cybersecurity products & solutions including email filtering, data loss protection, next-gen firewall, intrusion prevention systems, and advanced threat detection, using AI-powered threat intelligence, and real-time threat response capabilities.
ESET specialises in developing anti-virus software, endpoint security solutions, and encryption tools. They employ advanced behavioural detection, machine learning, and cloud-based threat analysis to identify and prevent new and unknown threats. They are also part of Google's App Defense Alliance, protecting the Google Play Store around the world.
With this strategic partnership between Red Piranha and ESET, businesses can leverage cutting-edge technologies with 24x7 SOC support to ensure continuous monitoring and response capability.
Both organisations hold ISO 27001 certification, which speaks to their commitment to maintaining the highest standards of information security. Our customisable on-board log retention stores logs for 18 months and is upgradable to meet compliance demands, providing effective digital forensics, and incident response capability.

"To effectively deal with Advanced Persistent Threats (APTs), companies need to adopt an 'assume the breach' mindset, and proactively manage risks," says Adam Bennett, CEO and Founder of Red Piranha.

"When handling incident response (IR), organisations should use a combination of NDR and EDR, plus cloud data to improve detection efficacy. Additionally, companies must have skilled teams and playbooks in place to act quickly when needed. Partnering Red Piranha and ESET offers companies the benefit of technical coverage provided by both technology stacks, along with Red Piranha's Defence-ready Security Operations Centre (SOC), and incident response and forensic specialists."
Eric Rollett, Head of Channel Sales for ESET Australia, said,
"We are thrilled about our partnership with Red Piranha and the expanded cybersecurity capabilities. ESET employs a multitude of proprietary, layered technologies working together that goes way beyond the capabilities of basic antivirus. Red Piranha, as a local Australian company, brings a wealth of experience that complements our endpoint detection and response solution."
The comprehensive approach gives companies the best chance of protecting themselves from an ever-evolving threat landscape.
Eric added, "As cyber threats continue to evolve and grow in complexity, organisations need to have comprehensive protection across their entire stack, and the ESET/Red Piranha partnership offers a total coverage solution that ensures a company's security posture is strong across all aspects of their infrastructure. By leveraging the power of both companies' technologies, customers can be confident that they are receiving top-tier protection that is fully managed and supported around the clock."
Adam Bennett is the founder and CEO of Red Piranha.

A cybersecurity expert, and entrepreneur, with over 20 years of industry experience, Adam has worked with some of the world's largest companies, developing cutting edge security solutions. He developed the Crystal Eye Unified Threat Management platform and the Sentinel Endpoint Protection solution. He is passionate about making cybersecurity accessible to all businesses and supports local charities and non-profits.
Eric Rollett is the Head of Channel Sales at ESET Australia.

With over 25 years of experience in senior leadership positions across sales and operations, he has a proven track record for outperforming targets for global IT organisations. He has held senior directorial positions, and secured high-profile contracts in South Africa, the UK, Australia, and Europe. He brings his expertise in compliance and IT security to help ESET expand and enable its partners to grow.
Date Published
April 10, 2023