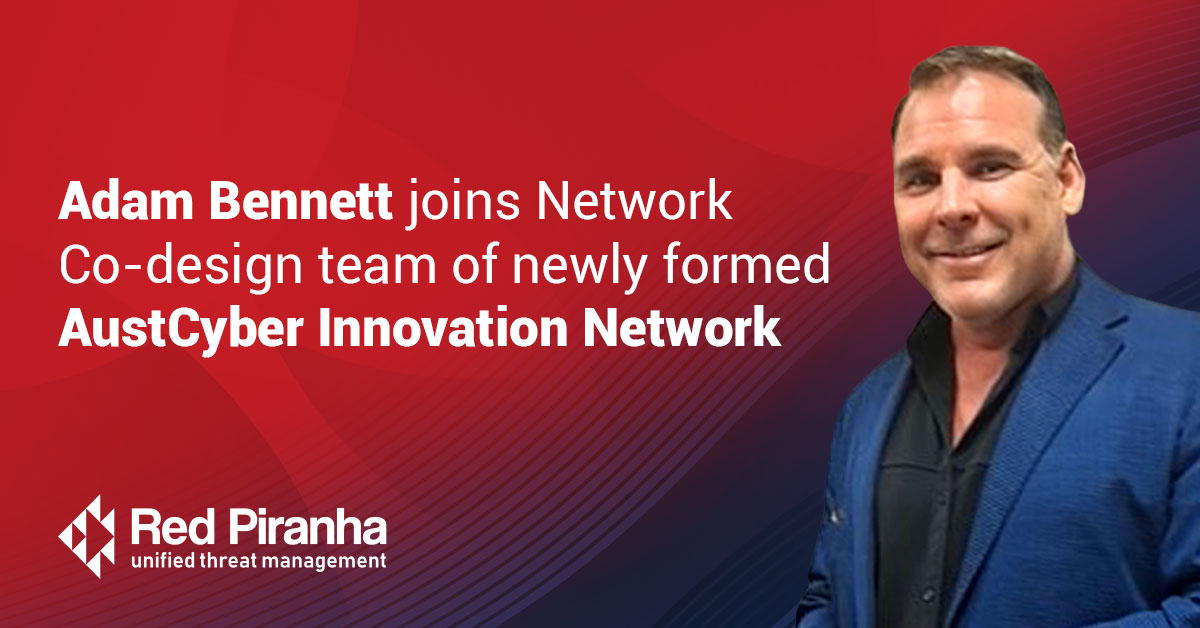 Red Piranha, Australia's leading developer and manufacturer of advanced cybersecurity solutions is pleased to share that the federal government has backed AustCyber in launching the AustCyber Innovation Network. The Network aims to strengthen the sector, as it takes on a central role in both political and business responses to online threats.
Adam Bennett, CEO of Red Piranha, has been selected as one of ten cyber security experts from all over Australia to join the prestigious co-design team. The Co-design team represents some of the best in the industry, experts that are leading the way in driving positive change.
The network co-design team includes:
Adam Bennett, CEO, Red Piranha
Asrar Ismail, Manager – Governance, Strategy and Compliance, Quality Management Australia
Ben Doyle, Chief Information Security Officer (CISO), Thales Australia
Gergana Winzer, Partner Enterprise Advisory – Cyber Services, KPMG
Jacqui Loustau, Founder and Executive Director, AWSN
Jo Cave, TAFE/VU
Matt Wilcox, CEO, FifthDomain
Matt Salier, Chief Executive Officer (CEO), the Australian Cyber Collaboration Centre
Sarah Box, Program Manager, Willyama
Tony Vizza, Executive Director – Cyber Security, KordaMentha.

The establishment of the AustCyber Innovation Network in both metropolitan and regional areas is fostering innovation and cultivating cyber security communities nationwide. This collaborative platform aims to involve and engage individuals from all sectors of the industry, including you.
The project has been backed by the Industry Growth Centre initiative and coincides with the government developing its Cyber Security Strategy Review and the Defence Strategic Review.
Cyber security and home affairs minister Clare O'Neil MP welcomed the launch of the AustCyber Innovation Network.
"In order to meet our goal of being the most cyber secure nation by 2030 new and innovative cyber security solutions will be paramount – this will be reflected in the 2023-2030 Australian Cyber Security Strategy, which we will release later this year"
Red Piranha is an official member of Team Defence Australia and has been highly active within the Australian Defence ecosystem. We're recognised as playing an important role in the Defence sector and are a proud participant in many Defence programs.
AustCyber and Stone & Chalk CEO Michael Bromley said
"Growth of our domestic cyber security capabilities is imperative for the future competitiveness and sustainability of our industries and economy, not to mention national security and resilience,".

"We are working closely with governments, industry, and communities as we usher in the AustCyber Innovation Network."
In addition, AustCyber group executive Jason Murrell highlighted that cyber security experts will collaborate and co-create solutions to advance the AustCyber Innovation Network. They will assess the existing state of the local cyber security industry and develop strategies to enhance programs for industry growth.
"Our expanding national footprint will increase accessibility for under-served and under-represented regions and groups,"

"Through the AustCyber Innovation Network, we are committed to providing unwavering support to the cyber security needs of all, including startups, scaleups, corporations, and government."
Adam Bennett, CEO, Red Piranha believes
"It is a great opportunity to collaborate and collectively enhance Australia's sovereign capability. Given recent high-profile data breaches in Australia, businesses must prioritise cybersecurity by adopting a defence in-depth mindset."
Austcyber will soon be introducing Cyber Security Ambassadors who'll play a critical role in this national network's success while showcasing Australia's cyber security expertise on the global stage.
Date Published
May 24, 2023