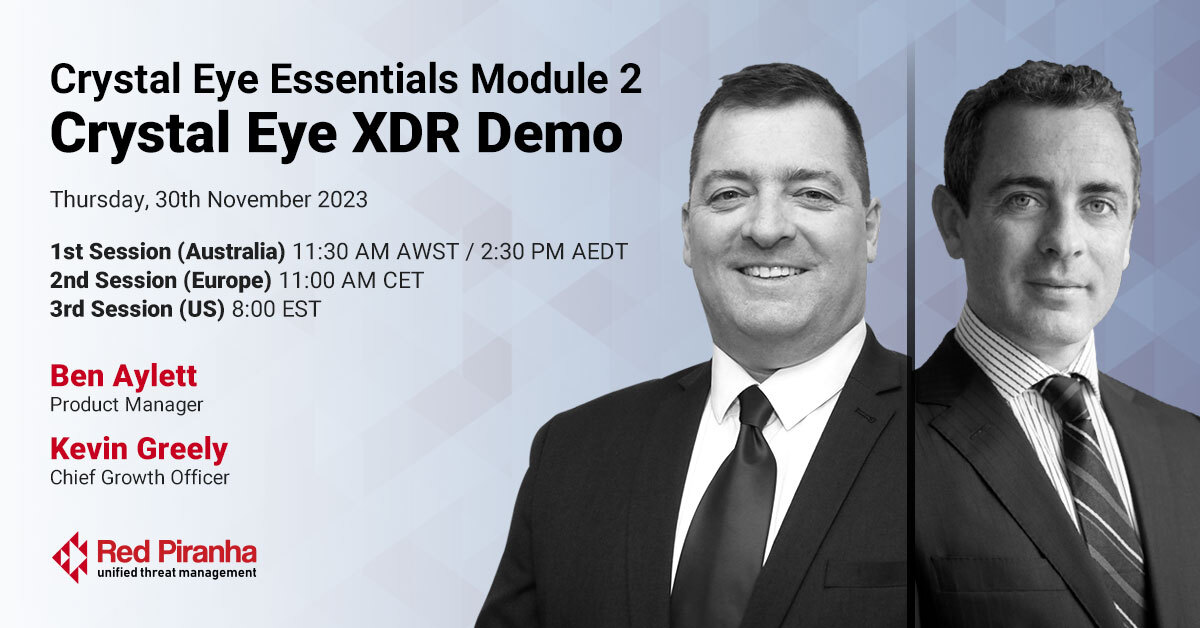 ---
Don't miss out on this chance to get a close-up view and personal introduction to our latest operating system on the Crystal Eye XDR platform.
We've taken our industry-leading platform and added a suite of new features, including:
Azure AD integration providing enhanced threat and activity signaling enjoyed by top-tier Microsoft enterprise level tenancies regardless of your Microsoft subscription level.
New Passive Encryption Control Application that uses advanced application and service fingerprinting to secure IoT and IIoT devices and networks.
Organisation Wide Access control across multiple environments with SASE Cloud, On Premise and Endpoint implementations.
Enhanced Security Tools including MDR, DFIR, SDWAN (including WireGuard), Content Filtering and Secure Web Gateway, Vulnerability Scanning and IRM.
Updated Asset Management tools including the improved Network Mapping Application.
Extended SOAR and DFIR capabilities from network-based incident escalation.
Email gateway scanning to allow for improved Microsoft 365 Integration and better Windows AD integration.
Tighter integration between CE XDR SASE and On-premise deployments with the cloud-orchestrate platform.
Please ensure that you register as a Red Piranha Partner prior to attending the webinar: MSP Partner Sign-up.
You'll need an active partner account to attend and join in for the practical aspects of the webinars.
Please note: If your company already has an account, please ask the account owner to provide you with access to use it for the training.
Hosted by our in-house team of experts, this webinar builds upon the knowledge presented in Module 1, and will include the basic setup and tuning of a Crystal Eye XDR device. This is an essential step in upskilling your team to deploy Crystal Eye XDR devices.
---
Event Details
---
Where: Online
When: Thursday, 30th November 2023
Time: 11:30 AM - 12:30 PM AWST
02:30 PM - 03:30 PM AEDT
02:00 PM - 03:00 PM ACDT
03:30 AM - 04:30 AM UTC
International Scheduling:
EU Session - Thursday, 30th November 2023
Time: 11:00 AM - 12:00 PM CET
06:00 PM - 07:00 PM AWST
09:00 PM - 10:00 PM AEDT
08:30 PM - 09:30 PM ACDT
10:00 AM - 11:00 AM UTC
US Session - Thursday, 30th November 2023
Time: 08:00 AM - 09:00 AM EST
09:00 PM - 10:00 PM AWST
12:00 AM - 01:00 AM AEDT Next Day
11:30 PM - 12:30 AM ACDT Next Day
01:00 PM - 02:00 PM UTC
---
Key Presenters
---
Ben Aylett - Product Manager at Red Piranha
Kevin Greely - Chief Growth Officer at Red Piranha