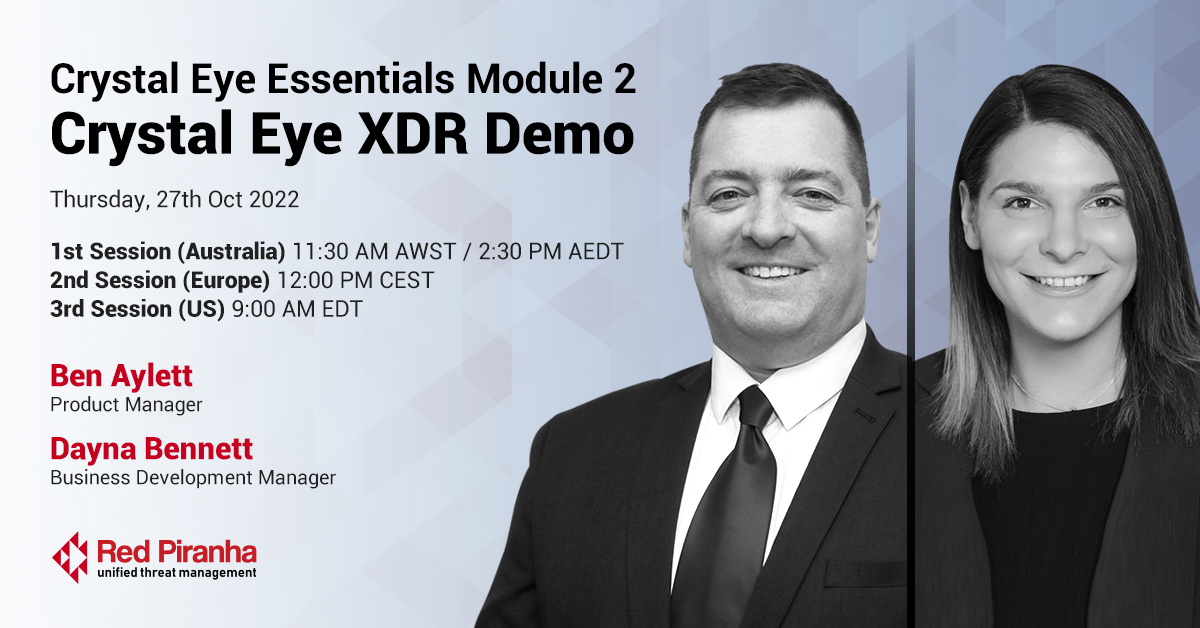 ---
Get a chance to experience our latest operating system, the Crystal Eye XDR 4.0, live through Crystal Eye Essentials Module 2 session.
We've taken the industry-leading Crystal Eye XDR platform and added a suite of new features including:
Security object control access across the entire organisation with SASE cloud, on-premise and MDR, DFIR, SD-WAN and IRM endpoints applications.
Extended SOAR and DFIR capabilities from network-based incident escalation.
Email gateway scanning to allow for improved Microsoft 365 Integration and better Windows AD integration.
Tighter integration between CE XDR SASE and on-premise deployments with the cloud-orchestrate platform.
Hosted by our in-house team of experts, this webinar builds upon the knowledge presented in Module 1, and will include the basic setup and tuning of a Crystal Eye XDR device. This is an essential step in upskilling your team to deploy Crystal Eye XDR devices.
---
Event Details
---
Where: Online
When: Thursday, 27th October 2022
Time: 11:30 AM - 12:30 PM AWST
02:00 PM - 03:00 PM ACDT
02:30 PM - 03:30 PM AEDT
03:30 AM - 04:30 AM UTC
International Scheduling:
Replay 1 - Thursday, 27th October 2022
Time: 12:00 PM - 1:00 PM CEST
06:00 PM - 07:00 PM AWST
08:30 PM - 09:30 PM ACDT
09:00 PM - 10:00 PM AEDT
10:00 AM - 11:00 AM UTC
Replay 2 - Thursday, 27th October 2022
Time: 9:00 AM - 10:00 AM EDT
09:00 PM - 10:00 PM AWST
11:30 PM - 12:30 AM ACDT
12:00 AM - 1:00 AM AEDT Next Day
01:00 PM - 02:00 PM UTC
---
Key Presenters
---
Ben Aylett - Product Manager at Red Piranha
Dayna Bennett - Business Development Manager at Red Piranha