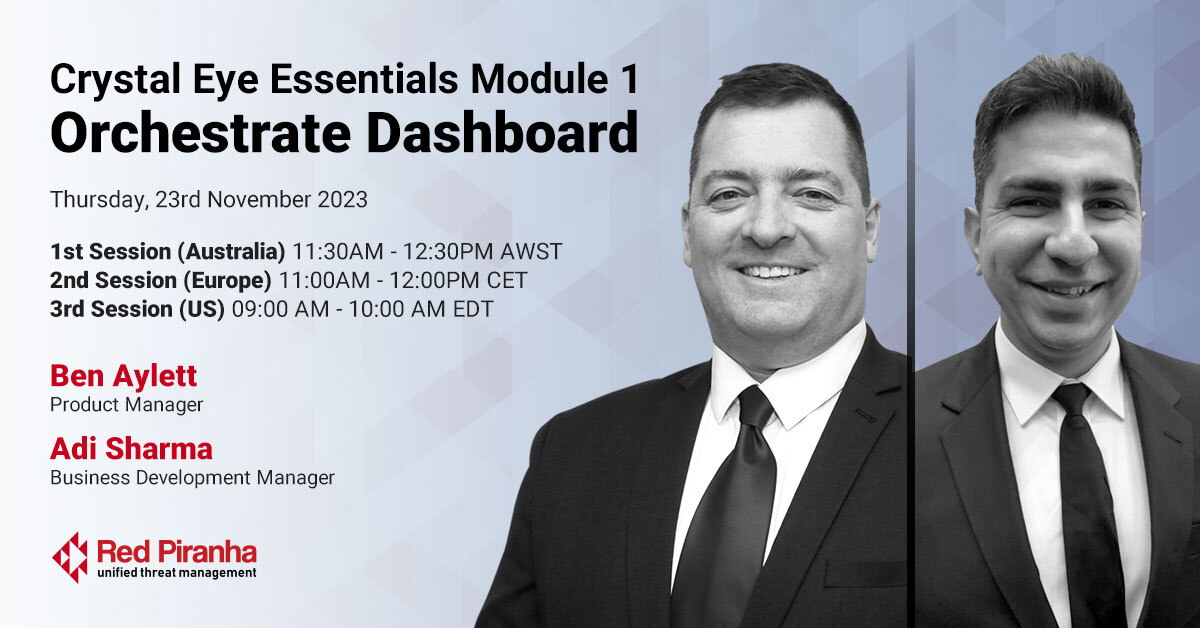 ---
Following the successful launch of Crystal Eye Secure Edge: Security First, Single Vendor SASE in Collaboration with Intel, it's now your chance to earn the Crystal Eye Essentials Certificate by completing Module 1 and Module 2 training sessions.
Participating in the Crystal Eye Essentials Module 1 webinar offers you a 'hands-on' introduction to our Orchestrate Dashboard, which has been designed with your convenience and speed in mind.
Take this opportunity to learn about the integrated tools and features live with our in-house experts in Red Piranha's Orchestrate Dashboard including:
Staff and Client Account Management
Automated Sales Tools
On-demand CSAT and Technical Training
Offer Fully Managed Single Vendor SASE with on-demand Digital Forensics and Incident Response
Global Network of Point of Presence (PoPs) partners for secure edge deployments for end customers
Other updates to the Orchestrate User Interface.
Keen to learn more? Make sure to register above for the upcoming Crystal Eye Essentials Module 1 training sessions.
---
Event Details
---
Where: Online
When: Thursday, 23rd November 2023
Time: 11:30 AM - 12:30 PM AWST
02:30 PM - 03:30 PM AEDT
02:00 PM - 03:00 PM ACDT
03:30 AM - 04:30 AM UTC
International Scheduling:
EU Session - Thursday, 23rd November 2023
Time: 11:00 AM - 12:00 PM CET
06:00 PM - 07:00 PM AWST
09:00 PM - 10:00 PM AEDT
08:30 PM - 09:30 PM ACDT
10:00 AM - 11:00 AM UTC
US Session - Thursday, 23rd November 2023
Time: 08:00 AM - 09:00 AM EST
09:00 PM - 10:00 PM AWST
12:00 AM - 01:00 AM AEDT Next Day
11:30 PM - 12:30 AM ACDT Next Day
01:00 PM - 02:00 PM UTC
---
Key Presenters
---
Ben Aylett - Product Manager at Red Piranha
Adi Sharma - Business Development Manager at Red Piranha