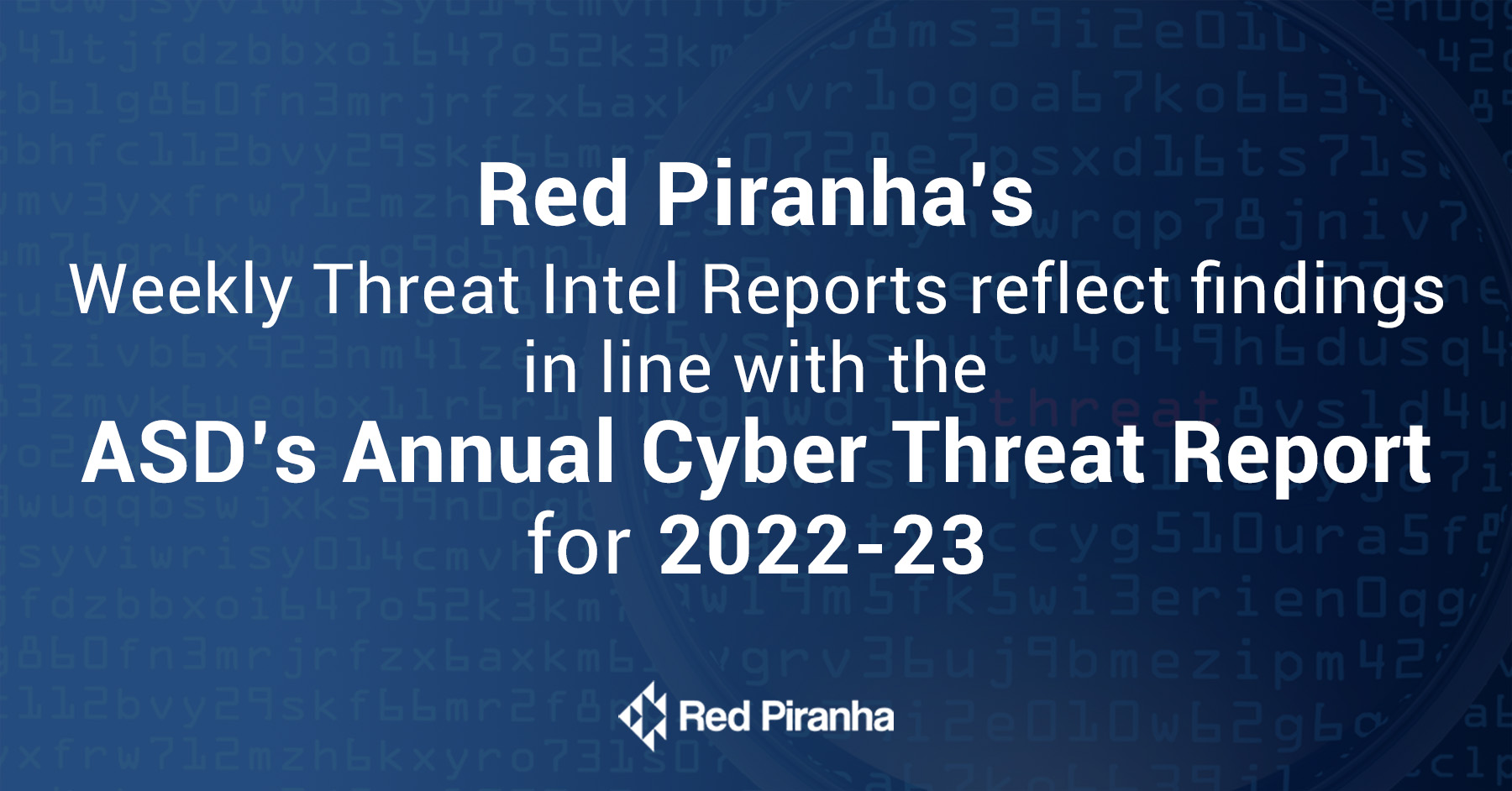 The Australian Signals Directorate (ASD) has published their Annual Cyber Threat Report 2022–23 that shines a light on the current state of Cyber Security in Australia.
Red Piranha has continued to track threat intelligence in our weekly Threat Intel Reports that closely reflect findings within the ASD's Annual Cyber Threat Report for 2022-23.
We can look to unpack some of the important findings the Annual Cyber Threat Report identified:
The average cost of Cybercrime per report climbed 14 per cent
Advanced Persistent Threats are on the rise, with attackers using Living off the land attacks to bypass EDR and other security tools.
A Cybercrime report was made every 6 minutes
Publicly reported Common Vulnerabilities and Exposures (CVE's) increased 20 per cent.

The Top 5 reporting sectors in order of most reports were:
Federal Government
State and Local Government
Professional Scientific and Technical Services
Education and Training
Healthcare and Social Assistance.

The time between Patches being released and attacks being launched has decreased with 1 in 5 vulnerabilities exploited within 48 hours of a patch being made available.
Businesses are also not prioritising patch management with 2 out of 5 vulnerabilities exploited more than a month after a patch was released.
Red Piranha's threat intelligence reports have been produced weekly since early 2017 and so far over 270 reports have been made available free on our website. The Threat Intel reports produced by Red Piranha provide not just details around the Intrusion Detection and Intrusion Prevention Systems (IDS & IPS) threat updates that are configured to combat threats and assist businesses in managing their ever-evolving threat landscape, but they also address Known Exploited Vulnerabilities, Updated Malware Signatures, Weekly Ransomware Victims by Location and Industry, and Ransomware Group statistics to identify what groups are most active & what they are targeting most.
Sign Up for our Weekly Threat Intelligence Report Today!
Date Published
November 16, 2023