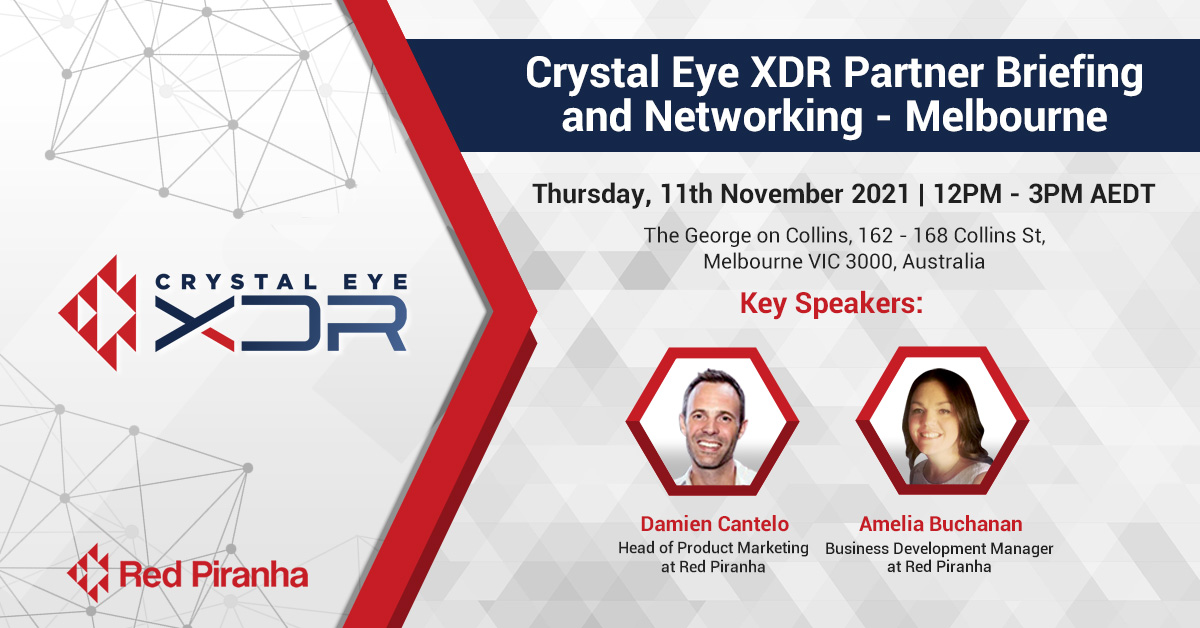 ---
Join our exclusive event showcasing the world's first true XDR platform, Crystal Eye XDR 4.0 – The next evolution in cybersecurity.
---
We've taken the industry-leading Crystal Eye XDR platform and added a suite of industry-specific features, including:
Security object control access across the entire organisation with SASE cloud, on-premise and MDR, DFIR, SD-WAN and IRM endpoints applications.
Extended SOAR and DFIR capabilities from network-based incident escalation.
Email gateway scanning to allow for improved Microsoft 365 Integration and better Windows AD integration.
Tighter integration between CE XDR SASE and on-premises deployments with the cloud-orchestrate platform.
In addition, Red Piranha offers organisations the following cybersecurity services:
Pathway towards ISO27001 Compliance
Security Assessment/Audits
vCISO: Virtual Chief Information Security Officer
This is also a great opportunity to network, meet some of our in-house experts and gain a deeper understanding of our range of security solutions!

Please note: Due to the ongoing impact of COVID-19, attendance to the physical event will be subjected to meeting stipulated requirements mandated by The Government of Victoria. Additional information will be provided to all attendees closer to the event date.
---
Event Details
---
Where: The George on Collins, 162 - 168 Collins St. Melbourne VIC 3000, Australia
When: Thursday, 11th November 2021
Time: 12:00PM - 03:00 PM AEDT
Event Program:
Note: Please advise of any dietary requirements.
As a precautionary measure please follow the guidelines below:
Remember, don't shake hands or exchange physical greetings.
Practise good hand hygiene.
If you are feeling sick, displaying symptoms of COVID-19 or have been in contact with someone who has COVID-19, please stay at home.
---
Key Speakers
---
Damien Cantelo - Head of Product Marketing at Red Piranha
Amelia Buchanan- Business Development Manager at Red Piranha